Snow Removal & Ice Control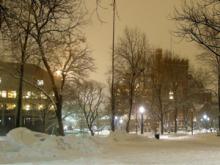 When a storm develops Facilities and Real Estate Services will enact the University's snow removal plan, in coordination with the Division of Public Safety and the Department of Transportation and Parking, to ensure that the needs of the University community are met. Each storm presents its own challenges with regards to snow removal and ice control. Some of these challenges are dictated by the time of day, whether school is in session, or not in session, the temperature, the mix of snow and ice and the rate of accumulation. Sidewalks and pathways are cleared in order of priority based on student residences and primary access points to buildings. This is done to ensure accessibility to buildings. Secondary and tertiary pathways, such as rear entrances and plazas, are cleared once all primary locations are safe. Facilities and Real Estate Services typically have between twenty-five to one hundred and fifty people on site, either preparing for, or actively servicing the campus during a storm, depending on the parameters associated with the storm.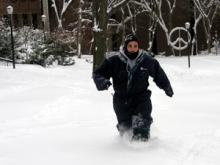 The campus area of coverage ranges from 31st Street to 40th Street and from Chestnut Street to University Avenue and the river, with several outlying areas included. All City and State roads are serviced by City and State crews and resources and City/State operations are not coordinated with University operations. If you have a specific snow removal request, please Initiate a Service Request or call Customer Service at 215-898-7208.