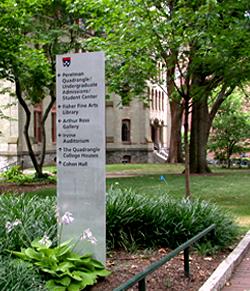 Exterior Signage
As stewards of the campus environment, the Office of the University Architect oversees exterior signage for the University. The Penn design aesthetic is intended to unify all campus signage with an appropriate vocabulary for a premier 21st Century research and teaching institution.
For more information, please see our Signage Policy page.
Interior Signage
Interior signage shall be in compliance with the Americans with Disabilities Act (ADA) of 1990, the 2010 ADA Standards for Accessible Design, which encompasses the 2004 ADAAG including signage and any and all subsequent updates and revisions as enacted.
The design and provision for Interior signage as a part of a new construction or renovation project is the responsibility of the Design Consultant(s) and is addressed within the associated construction documents and reviewed by FRES. Maintenance of interior signage elements within an existing School or Center signage system is the responsibility of the School or Center. Schools and Centers may use University approved vendors for the design and production and/or repair of their specific ADA compliant interior wayfinding and signage needs.
FRES Shops are able to produce, maintain and/or restore certain types of utility signage. If you would like to work with us to create or repair an interior sign, please create a maintenance request through the Maintenance and Renovation page. If you have a question, you may contact your area manager.