Waste Management and Recycling

Facilities and Real Estate Services is responsible for the collection of municipal waste and recyclables at Penn.  A Solid Waste Management Planning Committee was created in 2013 to evaluate our processes.  Our services and programs help the individual reduce their waste stream, reuse products to extend their life cycle, and recycle products at the end of their life cycle.
Did You Know?
We color code our waste to make trash collection easier.  For example, trash is collected in white bags and co-mingled recycling is collected in blue bags.
Trash and Recycling at Penn poster
The Penn Process
You may see your trash and recycling get hauled away in one bin, but the bags are separated into two streams at the loading dock by Facilities staff.  From there, our trash is transported to a local landfill and the recycling is taken to a facility with special equipment to separate Penn's co-mingled recyclables.  
Information on What You Can Recycle
If you need additional trash or recycling bins and bags for interior spaces, contact your Building Administrator.  For outdoor areas contact the Facilities and Real Estate Services call center at 215.898.7208.  The Facilities call center can also arrange for the distribution of pictogram stickers for labeling the interior and exterior bins.
Landfill Trash - Use the Grey or BLACK bins

Waste is considered landfill trash when no alternative disposal options exist, and includes styrofoam and (when composting is not available) food waste and food-soiled plastics/paper. Hazardous materials, such as non-alkaline batteries and CFL bulbs, should not be placed in trash bins.
Single Stream Recycling - Use the BLUE bins

Penn uses single-stream recycling.  This means that all recyclable items can be placed together in the same bin.  Some areas on campus still have separate bins for "Mixed Paper" and "Plastic/Glass/Aluminum", but all recyclables go to a single-stream recycling facility.  When the recyclables are taken to the recycling facility, they get sorted by machinery so that they can be recycled appropriately.  Below is a detailed list of what can be recycled on campus:
Paper, Cardboard, Glass, Plastics, Metals
Yes
All hard plastics (Plastics #1-#7), plastic containers

All colors of clean glass food and beverage containers

All standard paper including books, office paper, newspaper, and magazines

All clean cardboard including milk cartons, cereal boxes, non-greasy pizza boxes, and to-go containers

All metals including cans, tops, and aluminum foil and trays
No
Polystyrene (Styrofoam)

Light bulbs, window glass, lab glass

Tissue paper, paper towels, wax paper

Hardcover books

Plastic-lined, wax-lined or food-soiled cardboard and paper, including coffee cups

Batteries and electronics
Compost (Food and Organic Waste) - Use the GREEN bins

Compost is defined as all food waste, soiled paper, compostable tableware, and leaves.  Composting breaks down these materials so that they can be reused as fertilizer and soil amendments. Compost collection takes place at several locations on campus, including all campus dining halls and Joe's Cafe at Wharton.  Penn's composting contractor (Organic Diversion) accepts all food wastes, including meat, dairy, eggs, and oils.  Yard waste such as leaves is composted on campus.
Lab Waste
For members of the Penn community who work in labs, this signage contains recyclable items found in many labs.  All containers must be empty, and all labels must be defaced.  Many items also need to be triple-rinsed before being placed in a recycling bin.  Do NOT recycle anything out of tissue culture labs.
E-Waste
Based on EPA regulations, E-Waste is defined as almost anything with a plug, including electronics, computers, televisions, and LED or CRT monitors. A special vendor must be used to dispose of unwanted computers (including monitors, printers, and hard drives), electronics, and appliances. You may use Elemental  or E-Force to collect and dispose of these items.
Universal Waste
Universal waste includes mercury-containing equipment, such as CFL bulbs and other lamps, alkaline and lithium batteries, and cell phones. Universal waste contains a lot of heavy metals and toxic materials that can seep into the water supply or poison the ground. All of these materials can be contained, and most can be reused, if they are properly disposed of. Federal regulations determine how these items are disposed of. For additional questions and regulatory concerns, visit Penn's Environmental, Health, and Radiation Safety (EHRS) website.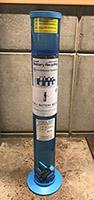 Request Battery Recycling Pickup
If interested, eForce can provide your building with a battery recycling tube at a cost (pictured right). Penn can provide services to collect the waste batteries for bulk disposal when the tube is full. To request a battery recycling tube pick up, contact Craig Roncace, Urban Park Supervisor.
Miscellaneous Waste
Miscellaneous waste includes books, bulk trash, writing instruments, shoes, clothing, office products, and ink and toner cartridges. The table below provides the appropriate resources for managing different types of miscellaneous waste.
Item: Furniture
Disposal Method: Ben's Attic
Item: Bulk Trash
Disposal Method: Facilities Call Center, 215.898.7208
Item: Shoes and Clothing
Disposal Method: PennMOVES
OR
Disposal Method: There is also a Goodwill dropoff box outside of Rodin College House.
Find out what and how to recycle.