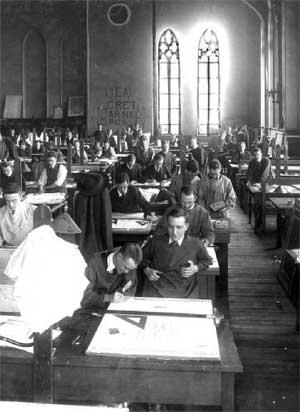 Overview
The Penn campus was developed on the open fields of West Philadelphia in the 1870s and has evolved within the City to the present-day campus of approximately 300 acres. Within it are over 180 buildings and almost 100 acres of maintained landscapes such as refined open lawns, gardens, and athletic fields.
Landscape
The Landscape Development Plan of 1977, authored by the University of Pennsylvania's Center for Environmental Design, under the guidance of Sir Peter Shepheard, first established the concept of landscape standards for the campus. The first phase in implementing this plan was the College Green renovation, completed in the late 1970s, establishing the new standard for the Penn Landscape. This simple standard, with its classic "English Landscape Style" of lawn and trees, brick and stone paving with granite curbing, ties the campus together as a cohesive whole. Flowers and planting beds occur judiciously at nodal points. Consistent use of standardized site furnishing completes the campus palette.
With the success of this first phase of the Landscape Development Plan, the University committed to its proposal of extending these standards to all subsequent design and construction projects on campus, and established positions within the Facilities Planning Office (now Facilities and Real Estate Services) to manage and oversee all landscape work. The Office of the University Landscape Architect, administratively located within the Office of the University Architect, now acts as custodian of all aspects of the campus landscape to protect the quality, consistency, and integrity of the Penn image.
For a more complete history and information on our current and future building projects and Campus Master Plan, please visit the Penn Connects website.
Historic Properties
Click the link below each image to download a PDF of the Penn Area Map.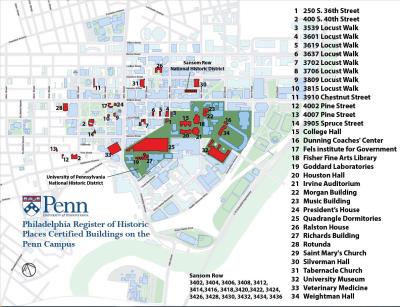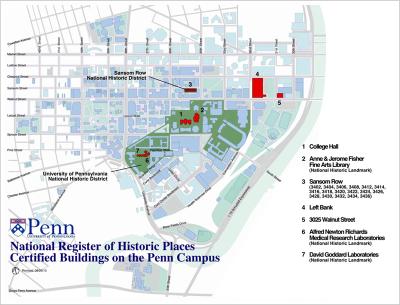 Campus Map with Landscape
Below is a map available for download that provides a detailed view of our campus, including trees and green spaces. From this PDF, you can print the entire campus or zoom in to a customized view.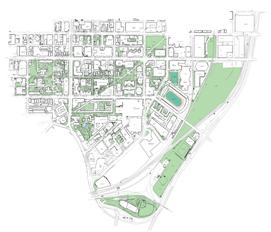 Past Campus Plans
Penn Connects builds upon plans made by the University, including the 1964 plan that created Locust Walk, and established several major new pedestrian routes which form the key spines of pedestrian movement and connectivity on the campus.