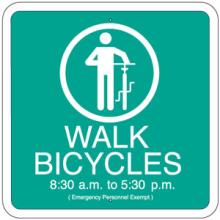 The University of Pennsylvania supports recreational and commuting bicyclists to, from, and on campus.  Penn also collaborates with the Bicycle Coalition of Greater Philadelphia to educate riders and motorists about bicycle safety and etiquette. We encourage cyclists, particularly those new to the Philadelphia area, to review the information below.
Bicycle Routes and Parking
When possible, it is best to use designated bicycle lanes.  Please see links below for maps:
Interactive Penn Bike Map » - Click "Biking Penn" in the red bar above the map to view City designated bike lanes, Penn bike parking, repair stations on campus, and more.
Regional Bicycle Maps - Provided by the Bicycle Coalition of Greater Philadelphia
Policies and Law
All Pennsylvania State and City of Philadelphia biking laws apply on campus and throughout the City of Philadelphia.  In addition, there are some specific bicycle policies that help ensure a safe campus.
University of Pennsylvania Bicycle Policy
Please note that bicycles must be walked on campus pedestrian pathways between 8:30am and 5:30pm, Monday – Friday.  Signs, as pictured, are posted in areas where this policy applies. Bicycles must be walked at all times, over the Class of 1949 (Locust Walk over 38th St.) Bridge and the 3 pedestrian bridges accessing Penn Park.
Please remember not to lock bikes to entrance handrails or any other location that impedes access to or from any facility as required by the Philadelphia Fire Code, the US Americans with Disabilities Act and/or University Bicycle Policy.
Philadelphia Bicycle laws
Please note that it is illegal to ride on the sidewalk if you are over the age of 12.
Safety
Penn's Division of Public Safety website provides safe riding procedures and tips for how to prevent theft on campus.
Pennsylvania State Bicycle Manual (PDF)
Federal Highway Administration also provides more information on bicycle safety. 
Additional Resources
Biking on Campus - comprehensive website that is coordinated with the Bike Planning Committee
Bike Helmet Reimbursement:  Most of the health care plans provided by the University of Pennsylvania offer annual reimbursement for bike helmet purchases.  Please check with your health care insurance provider.
Repair Stations:  There are three repair stations available for use by the Penn community.  The stations include all of the tools necessary to perform basic repairs and maintenance, from changing a flat to adjusting brakes and derailleurs. Hanging your bike from the hanger arms allows the pedals and wheels to spin freely while making adjustments.  The stations are located near Chemistry, Pottruck, and the lot at 34th & Chestnut Streets.
Campus Health Bike Well - part of Healthy Penn and Student Health Services