Campus and Building Plans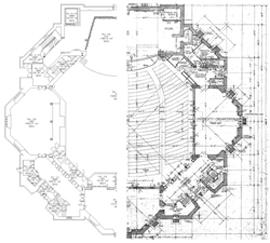 The Data and Documentation staff maintains multiple databases and collections that contain campus and building information including current room and floor square footage. Data and Documentation is comprised of two groups, the Facilities Resource Center and Space Management.
Facilities Resource Center
The Facilities Resource Center, located at 3101 Walnut Street, is responsible for maintaining information and drawings for current and historic buildings and properties of the University of Pennsylvania. The Center contains drawings, studies, electronic files (CAD), operations and maintenance information, models, photographs, and slides. Visits can be arranged by making an appointment with James Rauer.
"Drawing scans (TIF and PDF) are available on the Falcon drawing website. Access to the Falcon website requires a Pennkey, a completed Falcon Access Request Form, and permission. Access outside of Facilities is typically provided only to contractors with pre-approved documentation requirements."
Space Management
Space Management works with the Schools/Centers to create and update space plans and reports based on building measurements and project information submitted to the Facilities Resource Center. They maintain floor plans and space data for buildings currently owned or leased by the University of Pennsylvania. Please direct requests for space management information to Christian Hanson.
Request current plans and space management data.