Penn has one of the most beautiful urban campuses in the country. We are committed to maintaining and expanding our green space, upgrading our buildings and utility systems, and providing a strategy for the future.
Campus Master Plan
Our campus master plan, Penn Connects, concentrates mixed-use dense development near existing transportation hubs, allowing the academic functions to remain in the core of campus. This reduces the footprint of the built environment, while adding square footage to the campus, leaving room for open and green space. The University has added functions by renovating older buildings and building new structures, while keeping the amount of open space on campus largely the same. With the addition of Penn Park and Shoemaker Green, our campus has experienced an increase in recreational and passive green space. For more details about Penn Connects, please visit the Penn Connects website.
Stormwater Management Plan
The University is committed to managing our stormwater runoff. In order to meet the Philadelphia Water Department requirements, a campus-wide stormwater management plan has been created. The campus was broken down into 32 blocks, in order to evaluate stormwater management opportunities on a smaller, more detailed scale. Buildings were assessed for the potential of green roofs and areas for porous pavement conversion, bioretention, and subsurface infiltration/detention have been identified.  A PDF of the Stormwater Management Plan is available on the Design Guidelines section of our website.
Buildings
LEED Rating System
The campus development plan, Penn Connects, recommends sustainable development for all new projects. New buildings and major renovation projects currently under design are registered with the US Green Building Council, and are targeting LEED Silver rating or higher. Although not all projects will proceed immediately, the budgets range from about $20M to $300M, with a total aggregate construction value of over $1 billion.
For a complete list of strategies and more details, please visit the Built Environment page of the Penn Sustainability website.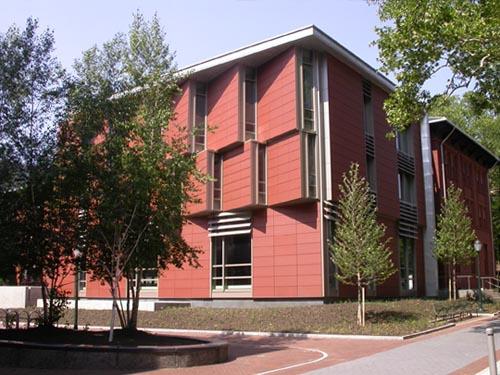 Reuse of Materials
We use several green strategies when undergoing a major renovation or constructing a new building. A common practice is salvaging stonework and paving materials from renovations and upgrades to campus landscapes. For example, the Civic House interpretive native garden, completed in 2007, reused paving stones from the 2004 renovation of Annenberg Plaza and surplus pavers from the Levine Hall renovation of 1996. The benches are salvaged 19th century granite curbstone and all paving is set in a sand bed to facilitate infiltration of storm water.
Green Roofs
Green roofs, or living landscapes, can be found on several building throughout campus.
Academic Research Building
Annenberg Public Policy Center
Fagin Hall Courtyard
Hill Pavilion (Penn Vet)
Kings Court English College House
Lauder College House
New College House West (pending)
Perelman Center for Political Science and Economics
Singh Center for Nanotechnology
Steinberg Hall – Dietrich Hall
Stephen A. Levin Building
Tangen Hall
Van Pelt – Dietrich Library Center 6th Floor
Real Estate
Other