In order to provide additional assets on and around campus, without exhausting our own resources, we have attracted third-party, private capital for development projects ranging from mixed use to housing to research.  The University maintains land control, however all of the capital for these projects is invested by the third-party developer. This allows the University to grow, while using its resources for the academic mission.
The University is strategic with their partnerships.  If you are interested in developing on Penn's campus, please contact Anish Kumar, Managing Director of Pennovation Works, at 215-746-8154.
Projects Currently Underway
Cira Centre® South 
A mixed-use real estate project consists of three separate but interconnected projects.
evo
33-story residential tower designed to service the housing needs of graduate students and young professionals.  Residents will enjoy fully-furnished pet-friendly apartments, in a variety of floor plans, and access to a rooftop pool, fitness center, and first-floor retail.  Opened with occupancy in August 2014.
Cira Green 
A green roof is being installed atop the Cira South parking structure that connects evo with the FMC Tower.  The resulting one-acre elevated urban park, complete with lawns and trees, will be known as Cira Green.  Visitors will enter the space by riding a glass-enclosed elevator up from the ground level.  Completed in September 2015.
FMC Tower
The 49-story, 690-foot tall tower will include 622,000 square feet of office space, 268 luxury apartments and executive suites, and 10,000 square feet of retail space.  Building amenities will include an aquatic center with pool and deck, a fitness center and spa, and a state-of-the-art business conference center.  Developer Brandywine Realty Trust and Penn have executed a long-term ground lease for the lot, as well as a 20-year lease through which Penn will occupy approximately 1000,000 square feet of office space at the tower.  Anticipated completion in the Summer 2016.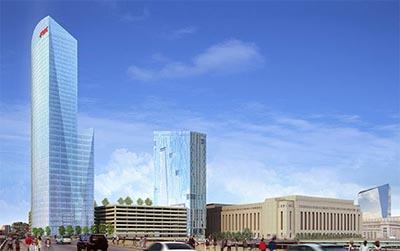 Completed projects
2015 - 3901 Walnut Street
A six-story office building, with retail on the first floor, will become home to existing Penn offices.  The new building is targeting LEED Gold certification.  The Hankin Group is managing the development.  Occupied in May 2015.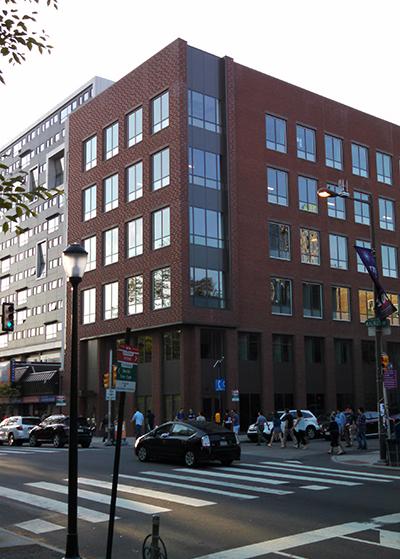 2015 - 3939 Chestnut Street
A mixed-use seven-story development near the corner of 40th and Chestnut Streets.  The first two floors are planned as retail and office spaces offering amenities to residents and the surrounding community.  The upper five stories provide 64 apartment units for rental, which include full kitchens, air conditioning, washers and dryers, and operable windows.  The University has entered into a long-term ground lease with a local developer, JNA Capital Inc., for the development of the asset.  Occupied in August 2015.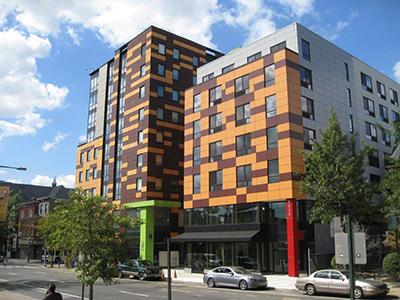 2006 - The HUB, with Teres Holding
New ten-story mixed-use residential and retail complex at the corner of 40th and Chestnut Streets.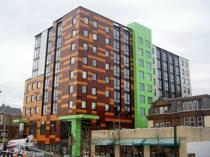 2007 - Domus, with Hanover Development Company
Domus is an eight-story luxury apartment complex with 290 apartments, 23,000 square feet of commercial space, and a 6 story parking garage.  Amenities include a heated outdoor pool, private screening room, WiFi Internet café, and a 24-hour concierge.
2008 – Radian, with Inland American Communities Group, Inc.
The Radian is a mixed-use project on Walnut Street, between 39th and 40th Streets.  The building consists of ground floor retail, a mezzanine of mixed use/retail, and 12 floors of market rate apartments for students.