Landscape Donor Opportunities
Landscape Donations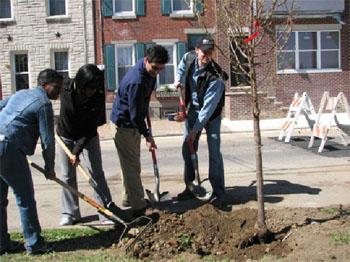 Trees, benches, and small garden plantings are dedicated as commemorative elements on campus. It is the discretion of the University Landscape Architect to determine appropriate locations for any gift.
Landscape elements that may be donated as a memorial include garden plantings, new or existing trees with a bronze plaque mounted on granite, or standard campus benches with a plaque mounted on the backrest. The information that appears on a donor plaque is limited by space and is subject to approval by the University Landscape Architect.
For the duration of its life span, each commemorative element will be maintained by Facilities and Real Estate Services. If a tree, planting, or bench becomes damaged by disease, vandalism, or other cause within ten years of installation, it will be removed and replaced. If unforeseen construction causes the removal of the memorial within fifteen years of installation, it will be relocated or replaced. At the end of its useful life span, the commemorative element will be retired and the original donor will be notified. They have the opportunity to replace the memorial at that time if they wish.
Procedure
All bench and tree donor plaque requests must be received by January 31 for installation by Alumni Day or July 31 for installation by Homecoming.  Individuals or groups wishing to make any commemorative donation should contact the Office of Development Alumni and Relations (215-746-7967) with their request. They will guide the donor through the available options for memorial giving. If it is determined that a landscape element is the best option, the donor will be provided with an application to select their preferred gift and provide the wording for the accompanying plaque. This application will be forwarded to the Office of the University Architect. The University Landscape Architect will provide no more than three options for the location of the memorial with appropriate plant selections. A final plan of the memorial site with plant list, plaque wording, time constraints, and total costs will be provided to the development/ donor for approval. When all of the details are agreed upon, and the funding secured, the University Landscape Architect will oversee installation.
University Bench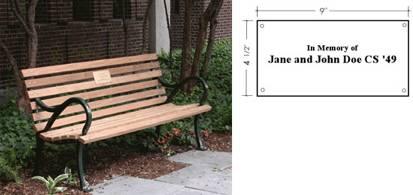 University benches are made of break-resistant ductile iron with anti-fungal Ipe (Bethebara) wood. A bronze plaque engraved with text is fastened to the backrest.
 Memorial Tree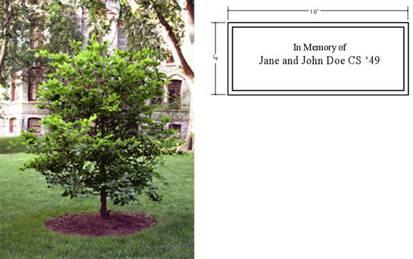 Trees are selected based on location, availability, and appropriateness to the campus, with the final decision being at the discretion of the University Landscape Architect. All efforts are made to accommodate potential donor wishes. Shade trees or flowering trees can be installed. Evergreen trees are planted only in limited areas on campus.