Gutmann College House Awarded LEED Silver Status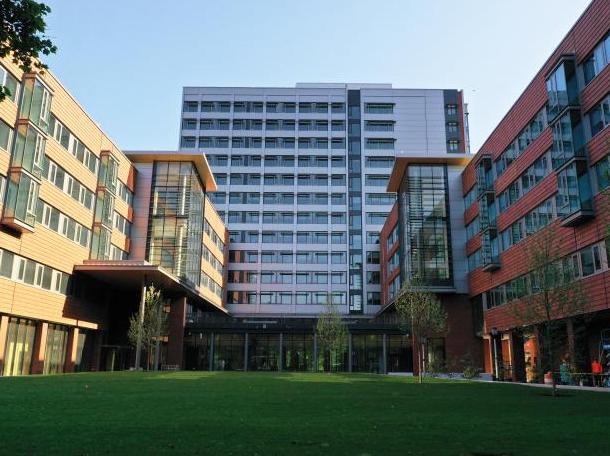 Gutmann College House, Penn's 450-bed residential building located at 40th and Walnut streets, has been awarded Silver Level LEED Certification. Completed in 2021, Gutmann College House was designed specifically as an undergraduate college house, part of Penn's residential system of shared communities. In addition to its suites, the student dormitory provides common areas including study, living, seminar and music practice rooms, as well as the Quaker Kitchen, a spacious area designed for cooking education and demonstrations.
On its LEED scorecard, Gutmann College House scored points for its rainwater management and sustainable site development -- in the center of the college house sits a courtyard which includes a rain garden. Gutmann College House also boasts multiple green roofs -- vegetation planed on top of structures to help reduce stormwater runoff, urban heat island impacts, and air pollution. It also scored highly in transportation categories, including access to quality transit and a reduced parking footprint.
Penn's commitment to a sustainable built environment and ecologically managed landscape continues. LEED Silver continues to be the minimum standard for new construction and major renovations, though many projects achieve LEED Gold certification. Over the past year, 7 buildings have received LEED certification, with the University Meeting and Guest House and Wharton Academic Research Building receiving LEED Gold for New Construction, Penn Medicine Pavilion receiving LEED Gold for Healthcare, Harrison Auditorium and Penn Museum's Harrison and Coxe Wing Renovations receiving LEED Silver for Commercial Interiors, and New College House West and Penn (Ringe) Squash Center, receiving LEED Silver for New Construction, totaling 43 LEED projects at Penn.
Visit the Facilities page for Gutmann College House to learn more about the project, and the Penn Sustainability website to learn more about all of Penn's sustainable buildings.
Last Updated:
May 4, 2023