Historic Marker Unveiled for the Palestra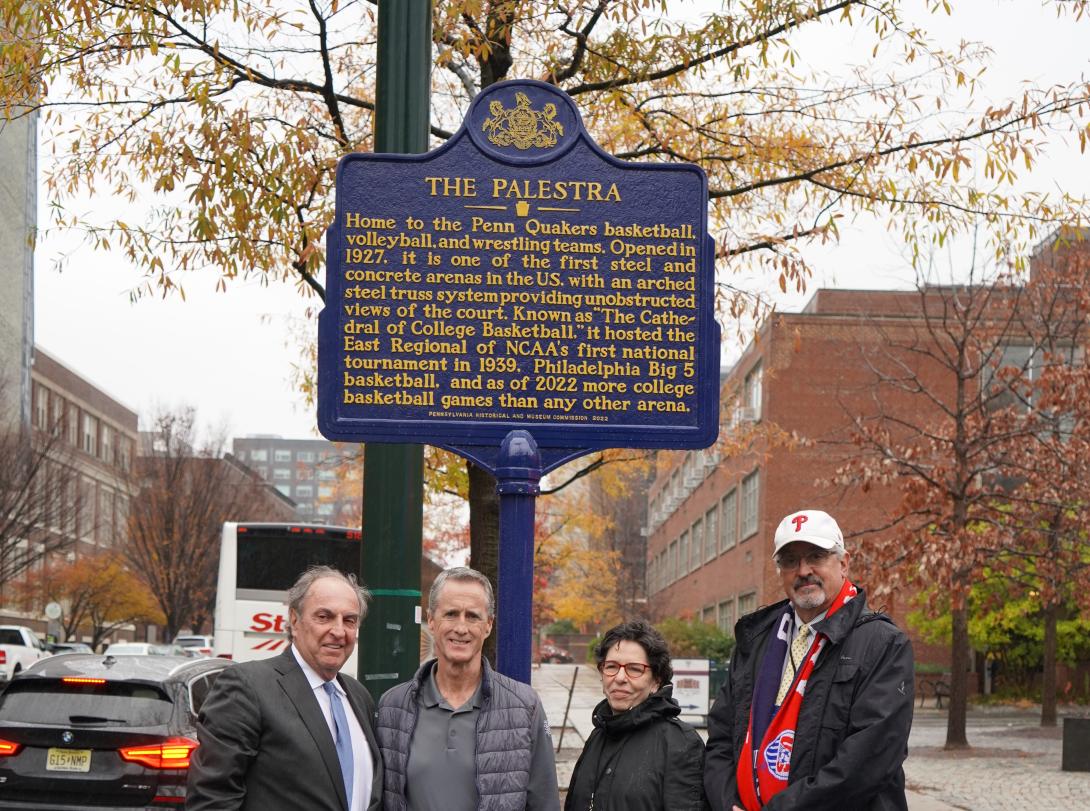 In December 2022, a ceremony was held to unveil a historical marker from the Pennsylvania Historical and Museum Commission (PHMC) outside the Palestra, honoring the historical significance of Penn's "Cathedral of College Basketball." Built at Penn in 1927, at the time the Palestra was one of the largest arenas in the world, seating 10,000 fans. Its revolutionary design featured superior sight lines and sat spectators in bleachers close to the court, removing barriers between spectators, coaches, and players. For years, the Palestra hosted Big 5 college matchups, some of the most storied rivalries in Philadelphia sports, and today, it has hosted more games, visiting teams, and NCAA tournaments than any other venue in college basketball history.
Read more on the storied history of this arena.
At the ceremony, remarks were made by several university reps, including Penn Athletics and Recreation Director Alanna Shanahan, Penn Men's Basketball Coach Steve Donahue, and LaSalle Men's Basketball Coach (and former Penn coach) Fran Dunphy on their perspective and experiences at The Palestra. State Senator Tim Kearney and PHMC Chair Nancy Moses spoke on this commemoration and unveiled the distinctive marker. The Commission administers a program of historical markers to capture the stories of people, places, events, and innovations that have affected the lives of Pennsylvanians over the centuries. Other markers on Penn's campus include The Eniac and The Penn Relays at Franklin Field.
See more from the ceremony in this short video from Penn Athletics.
Last Updated:
April 28, 2023