Penn Presents Progress in Climate and Sustainability Action Plan 3.0 FY22 Annual Report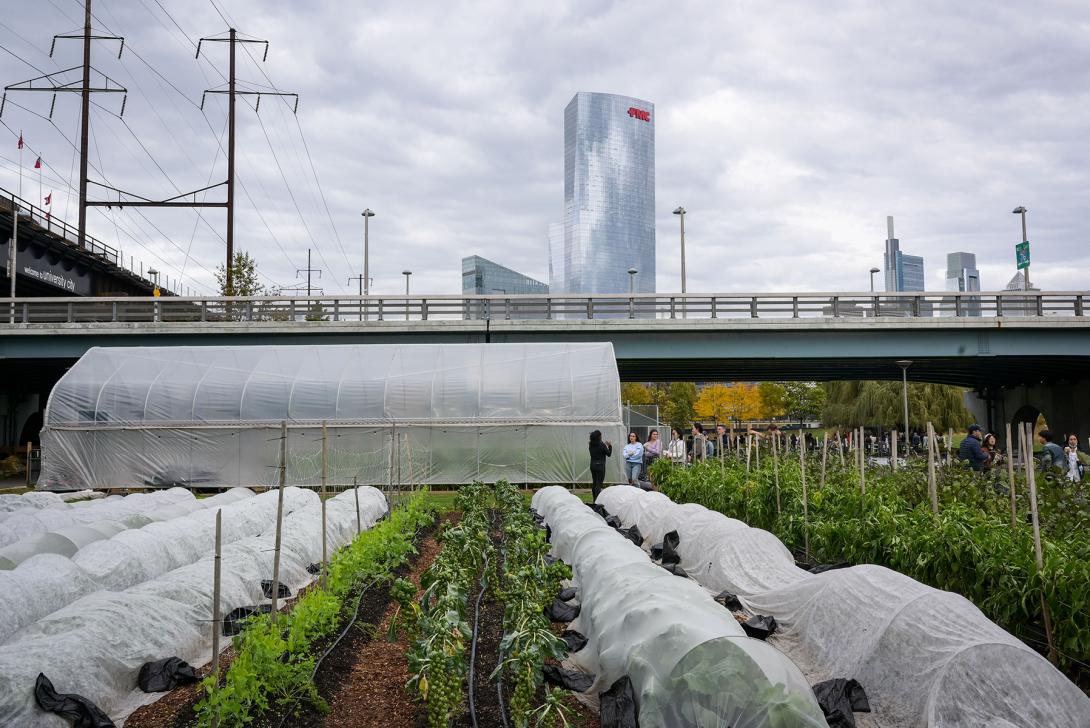 Progress through FY22 on the University-wide Climate and Sustainability Action Plan 3.0 sustainability goals.
Progress on the construction of a solar energy project, completion of a carbon footprint for Penn's real estate holdings, and the first purchase of carbon offsets for Penn's air travel are significant achievements for progress against the goals of the University of Pennsylvania's Climate and Sustainability Action Plan 3.0 completed in FY22, says the Penn Sustainability Office.
The Penn Sustainability Office has just released the Climate and Sustainability Action Plan 3.0 FY22 Annual Report, based on data and metrics for fiscal year 2022 gathered from across many academic and administrative units at the University. The Climate and Sustainability Action Plan 3.0 FY22 Annual Report documents Penn's progress towards the goals of the 2019 Climate and Sustainability Action Plan 3.0 (CSAP 3.0), tracking metrics in Academics, Utilities & Operations, Physical Environment, Waste Minimization & Recycling, Purchasing, Transportation, and Outreach & Engagement.
"As we close out the 4th year of this 5-year plan on our road to sustainability, we mark significant progress with all campus partners, and particularly celebrate our movement forward with our Power Purchase Agreement, and a plan to offset university air travel," said Anne Papageorge, senior vice president of Penn's Division of Facilities & Real Estate Services. "With this FY22 sustainability report, Penn continues to provide public, transparent reporting of our sustainability initiatives," she continued.
This report offers an annual, comprehensive, graphic, and concise presentation of progress in key performance areas during the previous fiscal year. Some FY22 highlights include:
Academics
CSAP 3.0 Goal: Expand tracking and reporting of student enrollment in sustainability-related majors, minors, and concentrations
FY22 Progress: 4,695 students enrolled in sustainability-related courses in the 2021-2022 academic year. Of these courses, 2,041 students participated in sustainability-focused and 3,742 students participated in sustainability-inclusive courses, as determined by AASHE.
Utilities & Operations
CSAP 3.0 Goal: Reduce Penn's overall carbon footprint toward our 2042 carbon neutrality goal
FY22 Progress: In FY22, Penn reduced overall emissions by 45% and building-related emissions by 45% as compared to the 2009 baseline year. Construction began on the solar energy project that is part of Penn's Power Purchase Agreement (PPA). Two new solar energy facilities will be built in central Pennsylvania, from which Penn will purchase all the electricity produced – an amount equal to approximately 70% of the total electricity demand of the academic campus and the University of Pennsylvania Health System.
Physical Environment
CSAP 3.0 Goal: Continue to Improve the Sustainability of Penn's Real Estate Holdings
FY22 Progress: Penn Sustainability has worked with the Center for Environmental Building & Design (CEBD) and Real Estate to quantify emissions for the Real Estate footprint. Penn Sustainability also created a flow chart for utility data to begin to identify where the carbon emissions from real estate can be quantified. Real Estate will use this information to continue promoting sustainable practices in its buildings.
Waste Minimization & Recycling
CSAP 3.0 Goal: Increase Penn's Overall Waste Diversion and Minimize Waste Sent to Landfill
FY22 Progress: Penn Sustainability, in partnership with Urban Park and Penn Housekeeping, created a waste precinct map to help better understand and disseminate building waste and recycling data to identify strategic opportunities for increased diversion. A truck with a scale has been obtained to start collecting monthly data for open-top trash and recycling dumpsters.
Procurement
CSAP 3.0 Goal: Encourage purchasing of low- or zero-emissions vehicles; Establish a plan to reduce Penn's carbon emissions from air travel
FY22 Progress: As of July 1, 2021, Penn integrated an additional fee into travel booking costs to generate funding to offset Penn's air travel carbon emissions through purchased offsets. The fees go to the Travel Sustainability Fund which invests in best-fit sustainability projects to fully offset the carbon impacts of the University's air travel. Penn has purchased 4,336 MTCDE to offset the 11,872 domestic and international flights taken in FY22.
Transportation
CSAP 3.0 Goal: Improved energy efficiency of parking and transportation facilities and fleet composition
FY22 Progress: For the first time ever, Penn Transportation has purchased four electric vehicles that will be used as passenger vans in the coming year. This purchase will produce a minimum 13 MTCDE reduction per van per year, totaling a 53 MTCDE or more reduction for the four-van electric fleet annually.
Outreach & Engagement
CSAP 3.0 Goal: Expand and Strengthen Existing Outreach Programs
FY22 Progress: Penn Sustainability hosted Earth Week from April 18-23, 2022, with nearly 50 in-person, virtual, and interactive events planned by students, schools, centers, and partner organizations on campus and in the community.
A PDF of the Climate and Sustainability Action Plan 3.0 FY22 Annual Report is available on the Penn Sustainability website. https://sustainability.upenn.edu/news/penn-presents-progress-climate-and-sustainability-action-plan-30-fy22-annual-report
A look ahead: Penn Sustainability and Penn's Environmental Sustainability Advisory Committee (ESAC) will begin work on the Climate and Sustainability Action Plan 4.0, by examining progress to date and evaluating new imperatives in the action against climate change. The new Plan will be released in the fall of 2024.
Penn Sustainability is a University-wide initiative to advance sustainability at the University of Pennsylvania and coordinate programs to develop a more sustainable campus. View a video introduction to Penn Sustainability on YouTube. Visit sustainability.upenn.edu.
Contact
Heidi Wunder, Communications Office, Penn Facilities & Real Estate Services; (T) 215.746.0123, hwunder@upenn.edu
Last Updated:
April 28, 2023