FRES Staff Honored with 2022 Models of Excellence Awards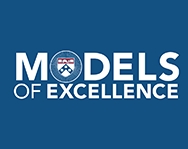 In March, numerous FRES team members were honored with 2022 Models of Excellence Awards, one of the University's highest honors for staff.
The Quaker Kitchen Project team, which included Michael Doherty, Dave Dunn, Ke Feng, Mark Kocent, Jackie Schlindwein, and Mariette Buchman, were honored with a team award for their work incorporating an innovative community dining experience into New College House on a very tight schedule.
An honorable mention was given to the Redundant Steam Line Project team, which included Daniel Hazley, Walt Molishus, Robert Piasecki, Roy Stein, Ben Suplick, John Zurn, and Michael Dausch. This team identified a single point of failure in the campus steam supply, and spearheaded the construction of a redundant steam line, eliminating the potential for a campus-wide failure.
Housekeeper Weldon Blount won a Pillar of Excellence award for demonstrating exemplary housekeeping services for the past eleven years. Weldon works first shift at the Perelman School of Medicine, and his flexibility and high standards of service were noted. The Pillar of Excellence award honors the important support weekly paid staff members provide through superior, sustained service to the University, as well as their contributions to a positive collaborative work environment in order to help the Penn community thrive.
The Models of Excellence Award program celebrates the extraordinary achievements of full- and part-time staff across the University's schools and centers. It was introduced to encourage excellence, provide inspiring role models, and recognize innovative staff accomplishments across the entire university community. Read about all the awardees on the Penn HR website, and congratulations to all of the FRES recipients for their excellent work! 
Last Updated:
April 28, 2023